Personnel
MD, PhD Adam Ziemlewski
MD, PhD Adam Ziemlewski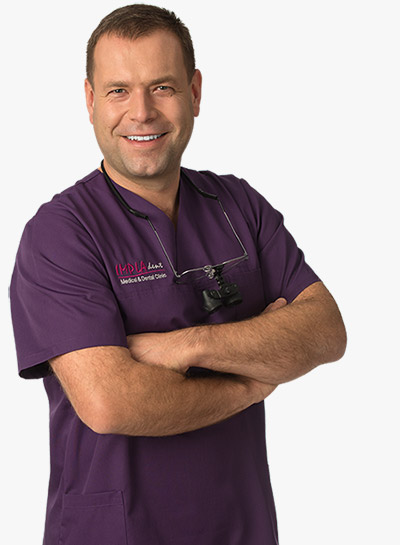 Specialist in maxillofacial and dental surgery. Certified OSIS-EDI implantologist.
A graduate of the Medical University of Gdansk with the first place of the year, the scholar of Guy's and St. Thomas's Medical and Dental School in London. A long-term research and teaching worker at the Clinic of Maxillofacial Surgery and Dental Surgery at the Medical University of Gdańsk.
The specialization in dental surgery, the defense of the doctoral dissertation and the state-of-the-art specialization in maxillofacial surgery, are the fruits of work at the University. Currently, he lectures on dental implantology at the University.
As one of the first in Poland, he obtained the accreditation of the European Society of Dental Implantology and the Ministry of Health and Social Care as a dental implantologist. He deals with surgical treatment of facial skeleton defects – orthognathic and reconstructive surgery.
Author of scientific publications, lecturer at courses and congresses in the field of dental implantology, surgery and aesthetic dentistry at home and abroad. Participant of several international research projects, which enables cooperation with the best specialists from the world's leading universities and private clinics. A member of the Polish and European Society of Dental Implantology and the Polish Society of Oral and Maxillofacial Surgery.